Project: Kent County Cricket Club, Canterbury, Kent
Client: Bellway Homes
Survey Date: February 2010
---
Background
Kent County Cricket Club found itself in the enviable position of being able to offer a location for housing development adjacent to Canterbury City centre, enabling an extensive redevelopment of its St. Lawrence ground facilities.
Survey Brief
To provide detailed topographical survey of the whole site for potential housing development and upgrading of ground facilities.
Survey Methodology
Prior to submitting a quotation the survey brief was discussed with the Architect. A detailed quotation was supplied and on instruction further discussions were held to clarify specification and confirm any amendments.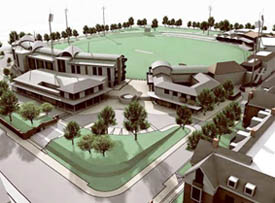 GPS SmartNet was used to establish Ordnance Survey National Grid and level datum, with a check to a local benchmark.
A control network was established using closed loop traversing and all detail was surveyed using Leica 700 series TCR instruments.
As part of the investigation into the potential use of the site for housing the surrounding roads were required in detail. All road detail was surveyed with Leica 700 series TCR, with reflectorless mode used to obtain levels and details with the live carriageway, thereby eliminating the need for traffic control with associated costs and potential time delay.
Quality Assurance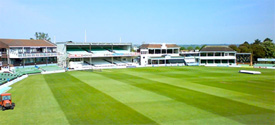 The survey was processed using N4ce survey software with all GPS and TCR control checks verified prior to detailed processing. In addition as part of our Quality Control system a contour model was generated with contours at 0.05m interval to identify potential target height errors. On completion of N4ce processing the project was exported to AutoCAD for drawing preparation and then initial checking by a Senior Surveyor prior to a site visit for field verification. On completion of the final drawing using AutoCAD a rigorous final check covering all aspects of the survey with particular emphasis on cartographical standard was completed by a Senior Surveyor, following which the survey was issued to the Architect as a 2D AutoCAD file and paper plans.
Ports & Shipping

Architecture

Waste Management

Civil Engineering

Local Government & Councils

Solicitors

Health Services

Renewable Energy

Churches & Ecclesiastical

Schools & Education

Landscape Architecture

Commercial, Residential & Urban Development

Utilities

Heritage & Historical

Coastal & River Defences

Railways

Highways
Dave Johnson, Eurotunnel
'We have worked with J C White for over 16 years and have found them to be professional and a very favourable company who complete al work in a timely fashion.'
Sam Jarvis, Jarvis Homes
'We have worked with J C White for over 30 years and use them exclusively on all our developments. We have constantly found them to be a professional, efficient and cost-effective company that adds value to our projects.'
CMS Enviro
'J C White is a proficient, professional, relaxed and approachable company.'
Mr & Mrs D Crawley
'My wife and I are very pleased with the survey work that you carried out and our solicitor assures us that on the evidence of your survey, our position is secure for the future. We would like to thank your two young men who carried out the survey for their polite good manners, helpful attitude and professional workmanship.'
Mr Richard A Maltby, Director Maltby Land Surveys Ltd
'I would like to say that JC White Geomatics are relatively local to us and we have come across their work over the years which has always been of a very high standard. I have interviewed a couple of their staff for membership into the ICES and have found them a credit to the profession. The company seems to have a very contented workforce with the management investing heavily into training.'
Dean Bain, Survey Manager Costain
'We have been working closely with J C White Geomatics for some 6 or 7 years now. They have proved to be accurate, honest, trustworthy and innovative. They also do what they say they will do. They are my first port of call for a wide range of external survey work.'