Registered in England & Wales:
4642192
Registered Office:
W K Finn-Kelcey, Stourside Place, 
Station Road, Ashford, Kent, TN23 1PP
Director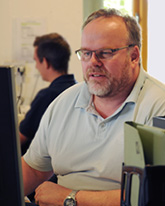 BTEC Higher Diploma in Land, Sea, Engineering Surveying and Mapping
Mike is at the very hub of the business and ensures smooth running of the day to day business supervising 20 staff. He joined in 1994 and has over 25 years' experience as a qualified Land Surveyor, initially as a Field Surveyor working both in the UK and overseas in Peru and Pakistan.Mike liaises with clients to determine scope of works required and advice on specification requirements. He is also our QA guru and is involved directly with company strategy and planning.
Director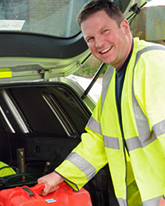 HNC Surveying and Land Information
Andy first joined J C White Geomatics in 1998 for 9 years, during which time he trained at Lambeth College and we were very pleased when he rejoined us in 2011. He is now our Engineering Survey and Setting Out specialist and also works on monitoring projects.
Dave Johnson, Eurotunnel
'We have worked with J C White for over 16 years and have found them to be professional and a very favourable company who complete al work in a timely fashion.'
Sam Jarvis, Jarvis Homes
'We have worked with J C White for over 30 years and use them exclusively on all our developments. We have constantly found them to be a professional, efficient and cost-effective company that adds value to our projects.'
CMS Enviro
'J C White is a proficient, professional, relaxed and approachable company.'
Mr & Mrs D Crawley
'My wife and I are very pleased with the survey work that you carried out and our solicitor assures us that on the evidence of your survey, our position is secure for the future. We would like to thank your two young men who carried out the survey for their polite good manners, helpful attitude and professional workmanship.'
Mr Richard A Maltby, Director Maltby Land Surveys Ltd
'I would like to say that JC White Geomatics are relatively local to us and we have come across their work over the years which has always been of a very high standard. I have interviewed a couple of their staff for membership into the ICES and have found them a credit to the profession. The company seems to have a very contented workforce with the management investing heavily into training.'
Dean Bain, Survey Manager Costain
'We have been working closely with J C White Geomatics for some 6 or 7 years now. They have proved to be accurate, honest, trustworthy and innovative. They also do what they say they will do. They are my first port of call for a wide range of external survey work.'