About Cookies
Cookies are small text files, typically made up of words and numbers, that are placed on the device you are using by websites that you visit. Cookies do a variety of useful jobs and are widely used in order to make websites work, or work more efficiently and provide information to the owners of the site.
This website sets a range of cookies, mostly analytical cookies that enable Google Analytical software to work.
These cookies may collect the IP address of your device but do not collect or store personal information that can identify you as a visitor. This information can only be seen by the relevant teams at JC White and Google and never shows any confidential information.
The data collected by these cookies is anonymous and is used to improve how our website works and the services we offer to our customers.
Cookies used
Analytics
We use Google Analytics to collect information that helps us to accurately calculate the number of visitors to our website and to see how these visitors move around the site when they are using it. Click here for more information about the cookies used by Google Analytics.
Content Management
One cookie is set by the Content Management System (CMS) that we use to edit the content on our website. This is a session cookie and the name usually look like a long string of numbers. This allows our CMS to determine if the person accessing the site is a site administrator so that, when logged into the site, they can perform quick edits on a page.
Managing Cookies
Most web browsers will allow some management of cookies via your browser settings.
For further information about managing cookies, please visit www.aboutcookies.org
For further information about cookies, please visit www.allaboutcookies.org
Managing Director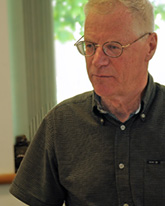 BSc Land Surveying Sciences MRICS
John started the business in 1981 and has grown it from inception to its current size - with the assistance of his team. He is a highly professional Chartered Land Surveyor with 40 years' experience both within the UK and Overseas. He is in overall charge of strategy but still enjoys going out on site. John firmly believes that keeping the business at the forefront of technology with a diverse client list is key to the success of the business.
Survey Director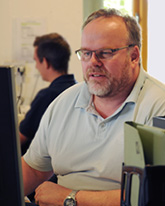 BTEC Higher Diploma in Land, Sea, Engineering Surveying and Mapping
Mike is at the very hub of the business and ensures smooth running of the day to day business supervising 20 staff. He joined in 1994 and has over 25 years' experience as a qualified Land Surveyor, initially as a Field Surveyor working both in the UK and overseas in Peru and Pakistan.Mike liaises with clients to determine scope of works required and advice on specification requirements. He is also our QA guru and is involved directly with company strategy and planning.
Principal Surveyor, Head of Laser & Measured Building Survey Teams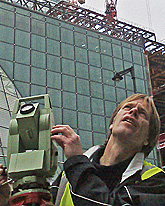 HNC Building Design
Ali has been with the company since 1987 and has grown with it with over 29 years' experience of practical surveying within the UK. Ali is always championing new technology and was one of the first surveyors to embrace 3d laser scanning. He is now a specialist in this field and has delivered talks to various professional bodies and companies on the use of Laser Scanning in the surveying and building industry.
Principal Surveyor - Boundary Demarcation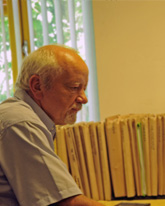 BSc(Hons) Surveying and Mapping Sciences
Clinton is our boundary specialist and joined us in 2012 providing the company with an expert in boundary demarcation and disputes. Clinton has over 34 years' experience of land and hydrographic surveying in the UK, UAE, Libya and the North Sea and has been specialising in boundary issues for over 20 years.
Senior Surveyor - Engineering Surveys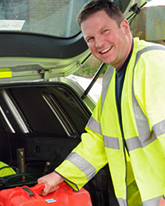 HNC Surveying and Land Information
Andy first joined J C White Geomatics in 1998 for 9 years, during which time he trained at Lambeth College and we were very pleased when he rejoined us in 2011. He is now our Engineering Survey and Setting Out specialist and also works on monitoring projects.
Office Manager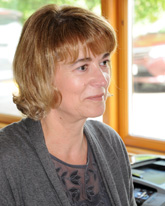 Jan joined the company in 2008 with a background of sales and finance and has become an integral member of our team. She is the first point of contact and will deal promptly and efficiently with any enquiry.
Survey Manager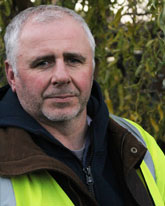 MCInstCES, HND (Surveying)
Jim is the central port of call for topographic surveys, engineering surveys (Including rail works), monitoring and setting out.
He will help you determine the scope of works and give advice on specification so your survey will meet your requirements.
With over 25 years of experience in all types of surveying projects overseas and in the UK, Jim has worked on national control schemes, major civil engineering projects and innumerable individual surveys. Jim has worked previously with JC White as a Senior and Principal Surveyor, but after stints working in surveying and training across London and the South East, he is now returning as the survey manager. As well as supporting the office and survey teams in their commitment to achieving the highest standards, he is looking forward to some site work too.
Clague
'Overall impression of the company is that it provides a first class, accurate service and is value for money.'
Dave Johnson, Eurotunnel
'We have worked with J C White for over 16 years and have found them to be professional and a very favourable company who complete al work in a timely fashion.'
Sam Jarvis, Jarvis Homes
'We have worked with J C White for over 30 years and use them exclusively on all our developments. We have constantly found them to be a professional, efficient and cost-effective company that adds value to our projects.'
CMS Enviro
'J C White is a proficient, professional, relaxed and approachable company.'
Lee Evans Partnership
'Good, professional service.'
Anthony Ralph, TG Designer Homes
'We have worked with J C White for many years. They always deliver, especially when setting out at short notice.'
Andy Walls, GuyHollaway
'J C White Geomatics have produced excellent work for us for over many years. They are attentive, conscientious and incredibly good at overcoming challenges that we, as architects, have a habit of setting!'
Mr & Mrs D Crawley
'My wife and I are very pleased with the survey work that you carried out and our solicitor assures us that on the evidence of your survey, our position is secure for the future. We would like to thank your two young men who carried out the survey for their polite good manners, helpful attitude and professional workmanship.'
Mr Richard A Maltby, Director Maltby Land Surveys Ltd
'I would like to say that JC White Geomatics are relatively local to us and we have come across their work over the years which has always been of a very high standard. I have interviewed a couple of their staff for membership into the ICES and have found them a credit to the profession. The company seems to have a very contented workforce with the management investing heavily into training.'
Dean Bain, Survey Manager Costain
'We have been working closely with J C White Geomatics for some 6 or 7 years now. They have proved to be accurate, honest, trustworthy and innovative. They also do what they say they will do. They are my first port of call for a wide range of external survey work.'